"Ushiku" featured on broadcaster NHK World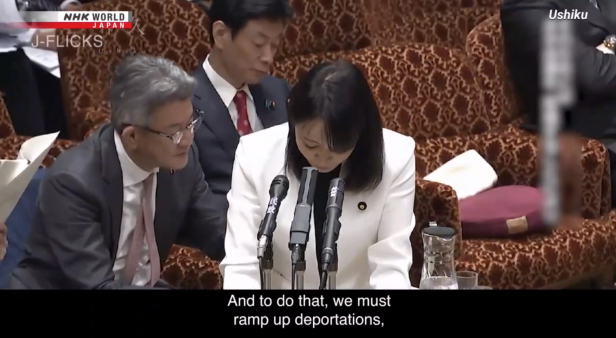 Thomas's newest documentary Ushiku (2021) was featured today in a six-minute segment of the NHK WORLD-JAPAN program J-FLICKS.  Below is an excerpt:
Host Sarah Macdonald: "I've said it before, I'll say it again: Nippon Connection Japanese Film Festival has a special place in my heart. Now of the films screened this year, I think Ushiku was particularly impactful, a really harrowing film. What did you think of it?"
Filmmaker and commentator John Williams: "I think Ushiku is probably one of the most important films that's been made in Japan in the last decade or so. And… I would like everybody to see this. It seems that people just have no idea what's going on in these detention centers in Japan and the way that asylum seekers and refugees are treated here in a really appalling and inhumane way. "
After viewing the broadcast for the first time during which NHK World, the international broadcast service of Japan's public broadcaster NHK, aired some of the documentary's hidden camera footage filmed inside of the immigration detention center in Ushiku, Thomas remarked, "Using tax dollars to expose the government's systematic violation of human rights is exactly what a public broadcaster should be doing."
More information on the program, including how to view it On Demand until September 4, 2021, is on the DocumentingIan Blog.