"In the Grey Zone" receives 2012 RIIFF Audience Award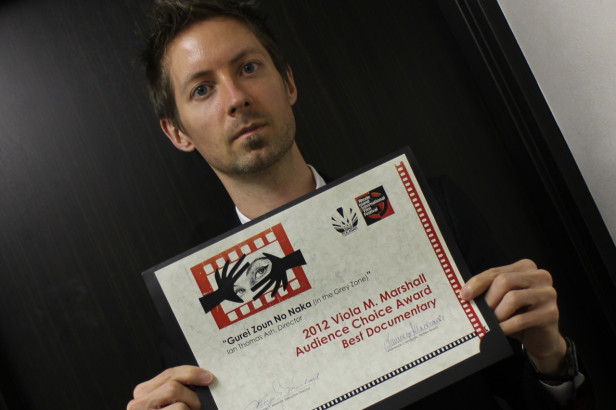 Ian's feature documentary "Gurei Zoun No Naka" (In the Grey Zone), premiered last summer at the 2012 Rhode Island International Film Festival.  On the final day of the festival, Ian was awarded with the "Filmmaker of the Future Award".  After the festival was over, the votes were tallied and the audience choice awards were announced in the autumn.  "In the Grey Zone" was given the Audience Choice Award for Best Documentary, and Ian received the certificate in the post this week.
Ian's new feature documentary film, about the children in Fuksuhima with newly discovered thyroid cysts and nodules, is currently in the final stages of post-production.
In The Grey Zone (synopsis)

In the zone 20-30 km from the damaged nuclear power plant in Fukushima, Japan, the
children of Minamisoma City are heading back to school amidst abnormally high levels
of radiation and toxic rain one month after the nuclear meltdown.

Filmmaker of the Future Award (description)

Presented to a filmmaker whose vision excites audiences and judges alike about the potential to produce compelling and successful films in the future
Gurei Zoun No Naka (In the Grey Zone) | Ian Thomas Ash, Japan, 2012